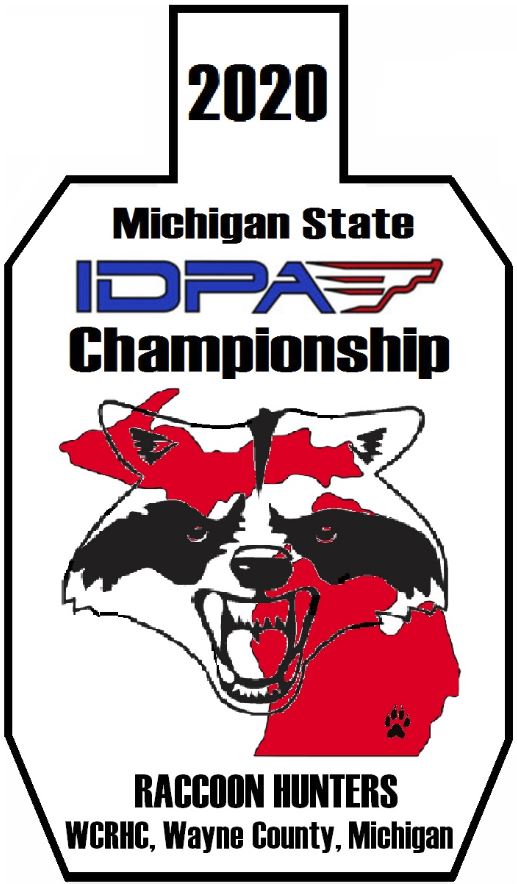 Welcome to the 2020 Michigan State IDPA Championship Tier 4 Match
This event will be held rain or shine at our outdoor range located at: 37950 Wick Rd, Romulus, MI 48174 on August 15th and 16th (Staff-only on August 14th)
12 FULL stages. (Per IDPA Tier 4 sanctioned match rules, rounds will be chronographed.)
We are able to host 120 competitors each day on Saturday and Sunday.
Competitors will complete the match in a single day.
Shooting will begin at 9:00 am EST., break for lunch around noon, and complete the match after lunch.
=========================================================== =====================
WCRHC Range Safety Rules:
Any muzzle pointed over any berm at any time is a match DQ, except for revolvers with the cylinder out.
Any gun dropped at any time on WCRHC property is a match DQ.
=========================================================== =====================
Competitors will squad themselves during online registration.
Registration fee is $130 and covers the cost of the match, shirt, lunch, and beverages.
Payment is required at the time of registration.
Registration starts March 1, 2020 and closes July 1, 2020. No refunds after registration closes.
There will be a wait list after the match fills up, however no shirt guaranteed after July 1.
=========================================================== =====================
No division changes after July 1. Classification changes as necessary.
Divisions: CDP, SSP, ESP, CCP, REV, and CO. All classifications. (We welcome all classifications, but reserve the right to change novice squadding as needed to ensure sufficient support for all Novices, as well as timely squad flow.)
=========================================================== =====================
It is the shooter's responsibility to make sure their IDPA membership and classification are up to date.
=========================================================== =====================
Pre-selected match staff will shoot on Friday the 14th.
=========================================================== =====================
Equipment check and Sign-in starts at 7:15 a.m.
Shooter's meeting starts at 8:45 a.m.
Shooting starts at 9:00 a.m.
When you arrive in the morning, please get geared up at the safe area near the Club House first. Gear includes your empty firearm, holster, ammunition carriers, concealment garment, and 1 empty mag. NOTE: We run a COLD RANGE for both competitors and guests. Loaded firearms are prohibited unless actively shooting a stage. Once geared-up, enter the Club House to sign-in at registration and get your shooter's bag. Then continue in line to the equipment check, recording, and finally thru the prize table.
It is the shooter's responsibility to ensure they have completed sign-in and the mandatory equipment check before their first shot is fired.
After completing registration and equipment check, proceed to the main pistol range near the pistol range building where the shooter's meeting will be held at 8:45 a.m.
WCRHC Range Safety Rules: Any muzzle pointed over any berm at any time is a match DQ, except for revolvers with the cylinder out. Any gun dropped at any time on WCRHC property is a match DQ.
Typically Michigan is very warm and humid at this time in August, but it is Michigan and the weather can change. Dress appropriately and consider the possibility of cooler temps or rain, and having rain gear available should you need it.
Registration questions? Email Shawna Snow sms811@comcast.net.
Match questions? Email MD Mark Boruta mboruta1@yahoo.com
Area hotels near the range can be found here in Romulus near Detroit Metropolitan Airport, or here in Canton.
Registration Opens March 1st, 2020 on PracticeScore
Sponsor Information …coming soon
If you would like to be a Sponsor for our match, please contact our Sponsor Coordinator, Colin Handlon. Click link below for information.
Please take a moment to thank our sponsors for their generosity in supporting our match.